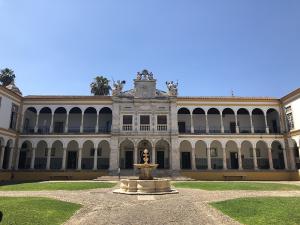 Applications for the ICMKA - 2nd Call
From 27 June 2019 to 8 July 2019
For over 25 years, Europe has funded the Erasmus programme, which has enabled over three million European students to spend part of their studies in another higher education institution (HEI) in Europe. Erasmus+ continues these opportunities, allowing for mobility to other continents (between the so-called "Programme" and "Partner Countries").
Erasmus+ now offers opportunities for students to study or train and staff to teach or train in HEIs beyond Europe. It also makes the same opportunities available for staff and students from countries beyond Europe to come to participating HEIs in Europe. This is known as International Credit Mobility and is an activity under Key Action 1 Mobility.
The application for students and staff is done by email. The applicant is asked to send it to icmka107@uevora.pt.
The application process will open from 27 June 2019 to 8 July 2019. Late or incomplete applications will not be considered.
The total number of grants is 12. The results will be available at: https://www.mobilidade.uevora.pt
In attach is the detailed information about this programm and the application form.
For more information, please contact: mobility@uevora.pt
From 27.06.2019 to 08.07.2019